Heart and soul dedicated to Kasargod Dwarf cow
---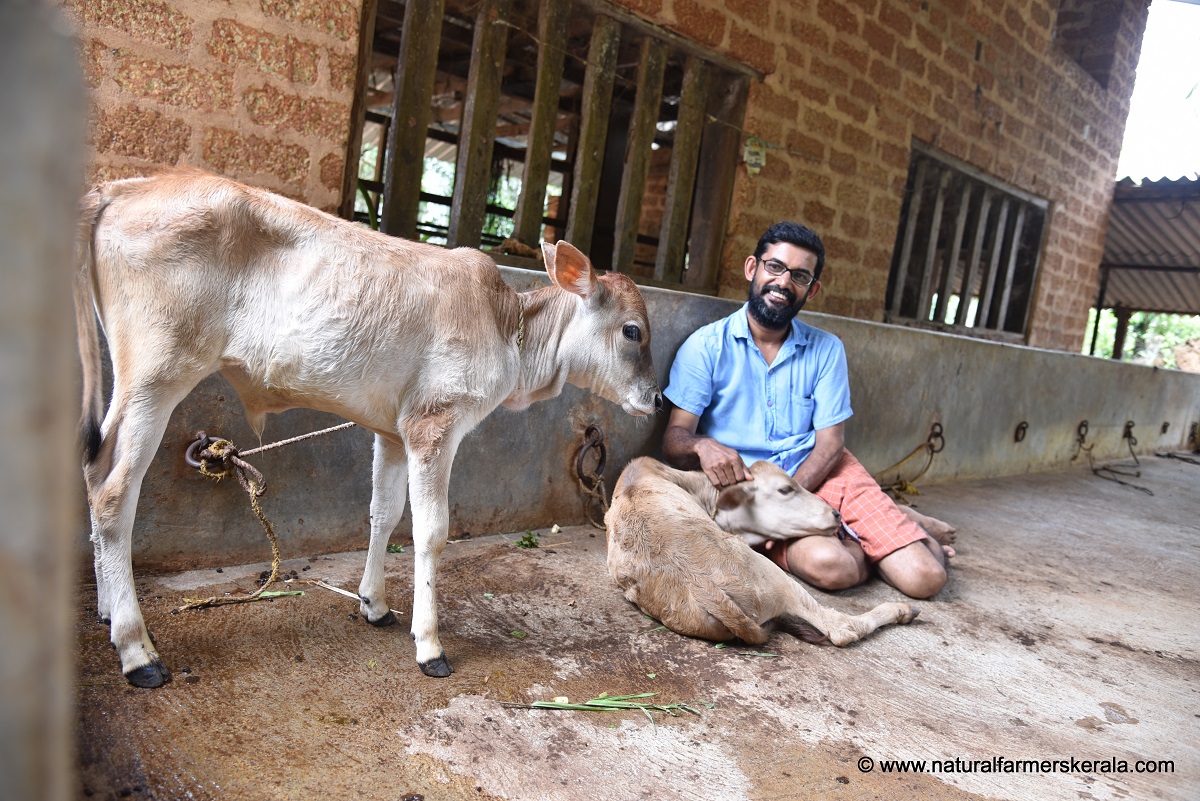 ---
My passion in understanding native Indian cows such as the famed but increasingly rare breed of Kasargod cows led me to Perla, a village in the interiors of Kasargod district, where I had the good privilege of meeting Mr. Nekkaarakaleya Subrahmanyaprasad. Mr. Prasad has been working for the preservation and upliftment of the Kasargod breed for a long time in association with the Gau Bank of Hosanagara Ramachandrapura mutt. The mutt has been rearing Kasargoden cows as a big project and they also happen to keep and breed all the 33 Indian cows.
While working as a coordinator of Kamadhuga conservation project for 5 years. He was instrumental in saving and reviving the breed. As a Gou-Sevak he has even involved in rescuing cattle from extremist – infested places. Also educating and proving that native cows can be reared successfully and profitably. It is this time he also earned a nickname "Jagadamba".
Nobody really knows since when. Mr. Prasad inherited the mantle from his father and grandfather who also dedicated their lives to this pursuit. They only rear Kasargoden cows of pure descendency. They are the proud owners of a few Kapilas cows and bulls, a rare variety within the Kasaragod cattle.
They also prepare a few ayurvedic concoctions which is desired and much sought after by a select few regulars who know about it. His father prepares them in the traditions passed down to him by his gurus. Their medicines are effective for diabetics, psoriasis, asthma, bronchial allergies, back pain, migraine as well as some pediatric ailments. Among their medicines are Ashtamangala ghritham and Prasarini thailam which they prescribe for Alzheimer's patients as well as for other commonly known neurological disorders.
The efficiency of their medications, they claim, is because they use the best quality ghee from the best quality milk from this special breed Kasargoden cows along with other Gavya products. The cows are grazed in open plains. Most of the milk is left for the calves, whatever little that is extracted manually is used exclusively as ingredients, in one form or another, in their medicines. Milk is never sold! They believe that this milk is Amrut and no price can justify it's value.
To augment his income, Mr. Prasad, in 2006, began innovating with cow urine. He discovered a formula for pesticides and pest repellent. The significance of Gomutra and Gomaya propounded by ancient teachings and literature is never taken lightly in this household. The formula is a unique blend of modern and traditional ingredients and techniques.
I use the dish washing liquid in my home. My impressions about it are that it cleans all the grease without leaving any suds or other residue of it's own. This effect, according to Mr. Prasad, is because of the distilled cow urine (arak). The dryness caused by caustic soaps is also not a visibly seen after using this.
The following line of household products constitute his modest product line:
Dish washing liquid
Washing detergent gel
Hand wash liquid
Bath gel
Toilet cleaner liquid
Other Products:
Gritham
Herbal Medication
Ghana Jeevamrutham (Dry) / Indian Cow Dung Fertilizer
Cow urine, dung and other herbal pesticide
His organic fertilizer using a blend of dung and urine combined with other natural ingredients is also much sought after.
Besides following his own passion he is also involved in spending a lot of his time and energy in training and educating fellow enthusiasts as well as local farmers groups on the value of cow dung and urine of indigenous breeds of cows.
We support Mr. Prasads passion and wish him more empowerment in all his pursuits. This website encourages one and all who are interested in knowing more about Mr. Prasad, his conservation efforts, his products, etc. to write to us. We will be more that happy to pass on your wishes and inquiries to Mr. Prasad. All product and trade related inquiries are welcome.
Mr. Prasad does not have an online presence at the moment.