Successful Paddy Harvest for Actor Sreenivasan with Zero Budget Farming
---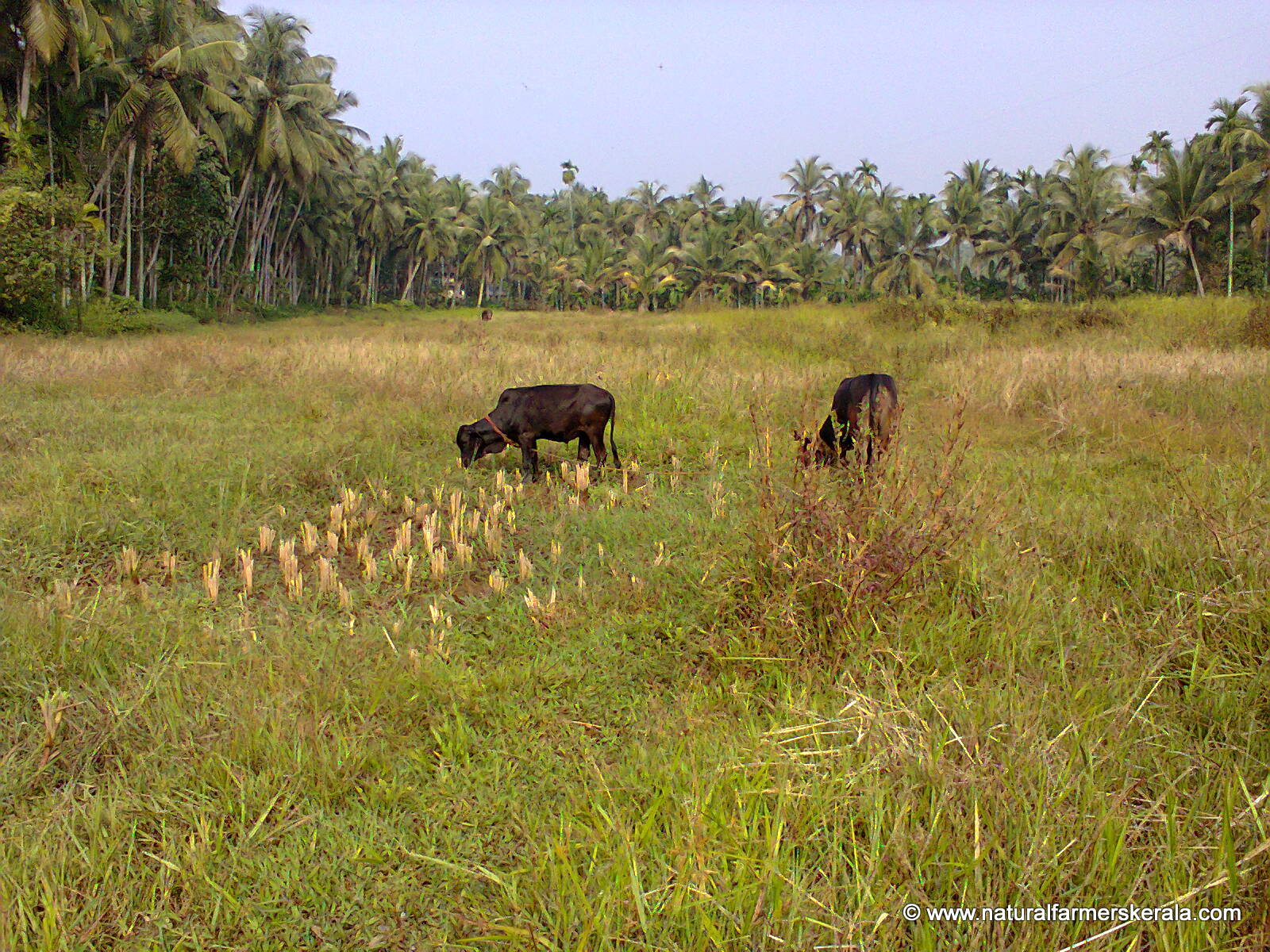 ---
Sreenivasan is a Malayalam cinema actor, director and screenwriter. His most movies illustrate problems in the society which are portrayed satirically or through comedy.
He has taken up the declining paddy cultivation of Kerala in real life. Wish he succeeds.
His grand parents were famous farmers, Karoothoty gurikal was among them based in P.K House, Vayanthode, Mattanur, Kannur. No wonder he has nostalgia of growing produce.
Zero Budget Organic Rice cultivation by Actor Sreenivasan
He is not the first to get into the paddy or organic food wagon there are few others celebrities and notable people in Kerala. Long time friend director Sathyan Anthikad is one among them.
Sathyan Anthikad and Sreenivasan are using Jyothi rice seed variety. Jyothi, Uma, Athira are high yielding dwarf variety of rice seed developed in late 60's and 70's popular in most part of Kerala. All these hybrid seeds are developed by transferring dwarf genes to high yielding Indigenous varieties of Kerala. Hybridisation was also done by farmers without any technology in the olden days. (will post about this some time later)
Sreenivasan has employed zero-budget farming concept of Subhash Palekarji.
Popular believe here in Kerala is nothing grows without English-valam(synthetic fertilizer). I feel this is a sick attitude, what ever is imported or used globally is good. This may be some what true, I have first hand experience in growing rice and vegetables using cows urine and dung Palekarji's way. However I can only boost of good rice, cheera (type of Spinach)and tapioca harvest. This is because there is absolutely no organic matter and earthworms in the soil.
Let me tell you paddy cultivation is a back breaking process. It requires immense labor effort. And if it pours heavy all the paddy would get submerged underwater. Few decades back water would clear out after the rains from the fields. However the scenario has changed because of excessive roads and bunds build at various intervals on the paddy fields. Water clearing from the fields delay and ultimately decaying the rice crop(please note when water is above or on par with paddy).
One of the benefits of dwarf variety they don't fall and stick to the ground during heavy pours. Traditional variety is normally big and the rice yield is less compared to hybrid because native breeds have to concentrate on building strong and bulky straw as well. Thavala kanana and Neevra nellu are just the two among the tall rice variety which I grew this season. Neevra nellu being the best rice it is normally used for medicinal propose, famous Kizhi Massage is done with neevra rice.
Native Rice(Paddy) Variety compared to Hybrid Paddy Seeds
Indigenous rice-straw are very good cattle feed. straw is soft and big it keeps cattle satisfied for a long time. Its is clear since bulls, oxen and cows have reduced as compared to the past, malayalees don't need the old traditional variety of rice. Rather they need more rice. Same goes for milch animals, no one needs oxen and bulls people only need milk.
Paddy cultivation requires lot of water, water and some more water. Fact is paddy plants can adjust their water intake by the means of osmosis. It takes up correct amount of water in its cells when ever required and then stops the process when not needed.
So why is excess water required? This is to control weeds and pest control (specially rats). In Kerala along with the water from the rivers it gets all the essential nutrients, minerals up from the high lands. Today every crop is feed with high doses of Nitrogen, Phosphorus, Potassium. Factomphos is a common fertilizer used every where, it is a mixture of all the above mentioned nutrients.
Most of the hybrid rice seeds are designed to survive in very less water. Uma is a popular variety which can be grow on high land with rain water feed or irrigation. It is also successful in water logged paddy fields.
However I feel if you compromise on certain aspect of a seed it will adversely affect other function. So it is good to stick with indigenous rice breeds. Pest attack and crop failure is very common in Hybrid.
Indigenous rice breeds can also most of the time predict climate change and adjust their harvest time. It has been documented. On the other hand hybrid can be a total failure. This season most farmers in Kannur lost their second harvest because of less rains.
Another concern with paddy is all the sowing and harvesting has to be done together. Different pest attack at different stages of paddy. If every farmer sows rice in their fields together attack is spread across every one and the damage to individual farmers is less.
To conclude celebrity farmers get so much exposure and media hype. Ultimately it creates a spark and some take up the task be it farming or some thing else. It is the need of the hour. However I feel more people will only get in traditional farming or agriculture if there is actually food crisis. I mean when people desperately need some thing to eat(Actual food shortage and not one which is present globally by corporate and government agencies to generate money) along with unavailability of crude oil.
Credits & References
Subhash Palekar & Zero budget farming – https://en.wikipedia.org/wiki/Subhash_Palekar
A field day for Srinivasan – http://www.thehindu.com/todays-paper/tp-national/tp-kerala/a-field-day-for-srinivasan/article4330964.ece
What is fertilizer and why do plants need it? – https://home.howstuffworks.com/question181.htm