Pongal or Makar Sankranthi – harvest festival
---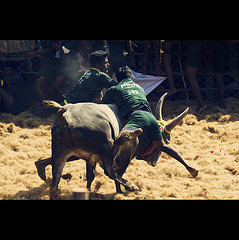 ---
Pongal is the harvest festival of Tamil Nadu. In fact it is celebrated all over India by different names. Since centuries people have been gathering and harvesting food, So pongal or Makar Sankranti is a way to thank nature. Pongal is important part of a Thamizhan because most people rely on agrarian activities to generate income.
Pongal festival is basically cooking the Pongal dish. There are two version of pongal, Venn and sakkarai pongal. Venn pongal is made with mixing rice and moong daal and is cooked with cashew nuts, ghee, raisins, and spices, sakkarai pongal is made using jaggery instead of spices.
Makar sankranti or pongal marks the end of winter and beginning of warmer and longer days compared to the nights. Basically every month sun moves from one zodiac sign to another that is know as sankranti. when sun moves to Capricorn Makara(sanskrit) constellation it is know as Makar sankranti, this happens normally in mid January every year. It is also called as uttarayaan(sanskrit) meaning Sun starts moving northward, you can actually see the difference in sun's position. It moves in the north direction, provided you are in India or Asia and have see the sun position since last 4 months.
Pongal is a 4 days festival. It is celebrated in "thai" month that is mid January.
First Day – Bhogi Pongal
Bhogi Pongal is on the first day where in houses are cleaned(old clothes and goods are set on fire) and houses are decorated, Kolam(Rangoli) that is drawn in front of the house, made from colored rice or chalk powder. This day is the worship of Lord Indra(cloud god) thanking for the rains.
Second Day – Perum Pongal
Second day of pongal is thanking the sun-god know as Perum Pongal (big festival) or Thai Pongal, it is celebrated by boiling rice, fresh milk and jaggery in new mud pots, when the rice boils over and bubbles out of vessel, the tradition is to shout of "Ponggalo Ponggal!" and blowing the sangu(conch). This tradition gives Pongal it's name. It is then offered with sugar-cane, coconut and some bananas to sun god outdoors and later offered to friends and family.
Third Day – Mattu Pongal
Mattu Pongal is celebrated on the third day, as the name say (Mattu means Cow or Bull), so this day is for the cattle, as they help farmers in multiple ways for agriculture. Once Cows and Bulls are bathed sandalwood and turmeric is applied on their heads with their horns colored in red, yellow and blue. Flower garland are also worn on their neck. Once the prayer gets over, cows are fed with pongal before anyone else eats them. This is practiced in villages of Tamil nadu till date.
After the ceremony Jallikattu is celebrated where the bull is let open in a field and young boys have to make him surrender. Jallikattu initially was a bull taming village sport. Where bundles of money where tied on the horns of bulls, young boys had to chase the bull make him surrender and retrieve the money, however present day jallikattu is bloodier. Western culture has always influenced India. Now days boys have to hold on to the bulls as long as they can for the prize money. In doing so most of them get hurt or some times killed, however here bull is not killed like in Spain.
I feel this game has to be supported and better educated because then few people shall breed better Indian bulls and maintain the genes of area specific breed, lesser and lesser people are interested in breeding bulls, because of the expenses and risk of keeping a bull. Here I don't support the torture of animals. Breaking or pulling their tails, Bulls are amazingly strong, agile and flexible.
Most bulls don't get hurt, also breeders who want strong animals normally don't starve or beat the bulls, I feel it is any-day better than people talking about protecting animals against torture and on the other hand eating beef and non-vegetarian foods.
In Kerala on this day people who didn't own a cattle would prepare sweet pongal or kheer and threw it on the grazing area or forest for the cows. This practice is not seen now-days.
Fourth Day – Kaanum Pongal
Forth day is know as Kaanum Pongal(kaanum means to view). On this day sisters pray for the brothers and offer the leftover pongal to birds for the well being of their brothers. People also visit friends and family for thanking them in supporting the harvest.
In other parts of Indian and Asia Pongal is know by different names, mostly its is know as Makar Sankranti, Maghi in Punjab and some other northern states.
In Maharastra Tilgul Ladoo(Til Ladoo made with Jaggery) is offered to family and friends along with Sugar Granules, people greet each other with (til-gul ghya, god god bola – Take this til Laddu and speak good sweet words).
Makara Sankranti in Kerala is celebrated at Sabarimala, Makara Jyothi or Vilakku is visible on top of the mountain, which is a creation to symbolise that sun has moved to Capricorn(Makara – sanskrit) constellation.
Credits & References
Image by Alagu – http://www.flickr.com/photos/allagappan/2202895737/
Image by Alex – http://www.flickr.com/photos/87244355@N00/407220151/
Image by Vinoth – http://www.flickr.com/photos/vinothchandar/6724764169/